ROTARY AND LINEAR HYBRID STEPPER MOTORS
Naked Motors
Hybrid stepper motors from IMS are available in rotary sizes NEMA 11 (28 mm) through  34 (85 mm), and linear actuator sizes NEMA 17 (42 mm) and 23 (57 mm). These extremely robust, long-life motors carry out precise step-by-step movements that are controlled by a stepper motor drive, such as MForce, to comprise a stepper motor drive system.
Hybrid stepper motors can be operated at very high resolutions, depending on the stepper motor drive.
1.8° 2-phase stepper motors available in NEMA sizes 11 (28 mm), 14 (36 mm), 17 (42 mm) 23 (57 mm) and 34 (85 mm).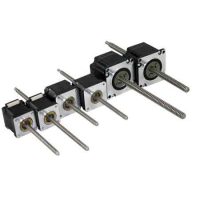 Delivering long life, high accuracy and unsurpassed repeatability, all in a package that is extremely compact and affordable.
When it comes to your form, fit and function requirements, don't settle. Get precisely what you need working with us. We know motion.
Contact us with any questions about how we can help you with your motion application or for assistance with your SEM products.
Browse our resource section and find the most useful tools and documents for all our products.