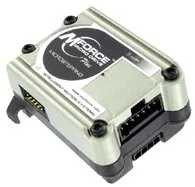 PCB-mount discrete drivers
MFM5 MicroDrive Step/direction Input

MForce MicroDrive Step/direction Input differential inputs is a high performance, high resolution microstepping driver. High +12 to +48 VDC input voltage and an output current of 3.0 A RMS (4.0 A Peak).   Parameters are set over SPI using an included utility .
Specifications
General
Control Type
—
Step/Direction
Control Interface
—
Step, direction and enable inputs
Driver Type
—
Microstepping
Operating Temperature
[°C]
2
California Residents –
Click here for Proposition 65 warning
Electrical
Input Voltage
[+VDC]
+12 to +48
Output Current
[A]
3.0 (4.2)
Motion
Step Frequency
[MHz] max
2.5
Step Resolutions
[steps/full step]
 1 … 256
Mechanical dimensions
When it comes to your form, fit and function requirements, don't settle. Get precisely what you need working with us. We know motion.
Contact us with any questions about how we can help you with your motion application or for assistance with your SEM products.
Browse our resource section and find the most useful tools and documents for all our products.